Lee-Anne Davie is an Executive Assistant to a Vice President level executive in a mining firm in South Brisbane. As an Executive Assistant, Lee-Anne assists with correspondence, diary management, travel, communication, event management, administrative tasks, and generally anything required to support her boss and her legal team.
Not only does Lee-Anne commit her days to her role as an executive assistant, Lee-Anne has a side hustle— OnCourse_withLA.
Lee-Anne has been encouraging women to venture out onto the golf course, helping them to understand the game and empowering them with confidence and a golfing passion.
We discuss balancing the corporate life with her side hustle, her motivations, and how she became an Executive Assistant.
What do you think is essential for juggling a full-time career and an entrepreneurial venture?
Being an Executive Assistant is both a demanding and a rewarding role.  I make it a conscious decision to dedicate myself to my EA role during the day and to dedicate some planning and development of my side hustle for a couple of hours each night.
I believe you have to love what you're doing in your career and your side-hustle because it's so important that you make time for both.
Can you run me through the day-in-the-life of Lee-Anne Davie, Executive Assistant and Entrepreneur?
I wake up around 4:30-4:45 and I enjoy a peppermint tea in bed, and look out across the city from my South Brisbane apartment.  I meditate and write in my diary— usually three things I'm grateful for—and then I get up and into the day.
I like to make a green juice with a balance of nutrients.  I can feel the difference when I have them in the mornings—I'm much more switched on for work. I walk 2 blocks to get to the office and am ready for the day's activities as soon as I arrive.
When I come home, I have dinner and get to working on my side-hustle for an hour or so and make sure I get a good night's rest.
How did you get onto this career path to become an Executive Assistant in a mining firm?
I've been a personal assistant, a PA, or secretary for about 25 years now and have worked across a few different industries, from chartered accounting to property and now in the mining sector.
About 12 years ago I was in a relationship where I took myself out of the working mainstream and became my partner's assistant.
I love being around people and when my relationship dissolved it was the perfect opportunity to get back into a large workplace.
It was Suzie Majer who gave me the opportunity to start working with one of her valued clients 8 years ago—I'm so grateful to Suzie. There's no one who knows people the way Suzie knows people.
What is your favourite part of your job?
I have the most amazing and supportive boss who makes it easy for me to enjoy my EA role.
We work together as a partnership, which is essential when we need to understand the day's priorities and to focus on the areas necessary to drive the business forward.
It's so rewarding – and I am so grateful to work with my boss who is an amazing mentor for women in general.
Work/life balance is tremendously important for her and as such our work regime has to be planned but flexible in order to adapt to accommodate last minute changes.
I love where I work, it's such a great environment because people really see the value of others extending themselves to help. Having supportive women and men around me ultimately encourages me to commit to my side-hustle.
There is a real dedication to inclusion and diversity, be it cultural or gender-based, and the ethics of my supportive colleagues have taught me to enjoy what I do and play to my strengths –  because everyone has a skill and something to offer.
You say that sometimes your days can be 11 hours long at work.  How do you find time to work on your side-hustle?
I believe that when you have a passion for the work you do, be it your main career or your side hustle, you will find the time to balance both.
I'm going home to my email tonight to learn more about e-campaigns so I can automate the marketing of Pitch Perfect Ladies Golf Days to reach many females who are interested in giving golf a go.
How would you describe your side-hustle and the value it provides to your clients?
Golf is my passion and I've been playing it for over 26 years and as such, I am encouraging women regardless of age to also try it.  I have commenced a Facebook page called OnCourse_withLA and have taken a few ladies out onto the course to swing a club and test their skills.
In starting this as a Sunday afternoon opportunity I've learned that the best way to commence golf is to have a lesson from a professional. It is so important to understand the set up first before you begin golf.
Without a lesson, most of us rely on the direction of a golfer who has developed their own style and who may not be as patient with someone who is learning from scratch.
Golfing professionals, Grant Williams and Peter Clark from St Lucia Golf Links have developed a fabulous program which provides budding female golfers with practising correct golfing techniques in a fun and safe environment.
I am so grateful that they share my passion to see many ladies out on the golf course and have become an integral part of my Pitch Perfect Ladies Golf Days.
What has been the most helpful tool in building your side-hustle?
Social media and people in my community. Social media is great at reaching many different areas of the community.  It's a wonderful tool to meet interesting people from different backgrounds and sporting areas. It's something I'm still learning to use.
While social media is great, word-of-mouth recommendation is still highly valued. I'm not expecting to reach everyone in my golf-life overnight, but I have received great support from the golf coaches at St. Lucia Golf Links.
It's such a desired club in Brisbane as it has a fantastic café and bar area, a state of the art golf simulator and very reasonably priced golfing activities designed to encourage avid and developing golfers.
You don't have to join as a member.  You just need to get out on the course and play some golf.  You might say it's "Pitch Perfect" for beginners.
I'm happy to support the new golfers who want to learn more about the game and can give them some tips as I golf with them around the course.  I've met some really lovely ladies at St. Lucia and I am delighted and privileged to be part of their golfing development.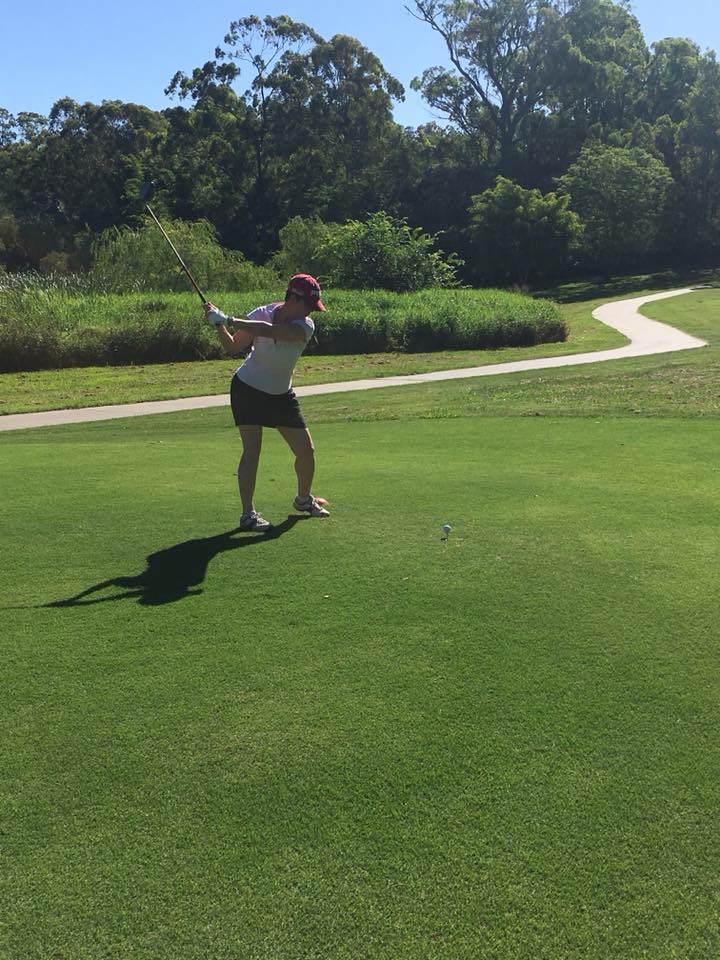 ---